Table of contents
Enter a realm where history, nature, and spirituality converge to create an extraordinary experience like no other. Welcome to Ved Van Park, India's first-ever Vedic theme park, nestled in the vibrant Sector 78 of Noida, Uttar Pradesh. Recently inaugurated, this awe-inspiring park is a magnificent fusion of Indian culture, natural beauty, and amusement, designed to captivate the hearts of visitors from all corners of the world.
Venture through lush greenery, home to over 50,000 plants mentioned in Vedic literature, and immerse yourself in passages from the Rig Veda, Atharva Veda, Yajur Veda, and Sama Veda. Envisioned with a budget of INR 27 crore, this grand project showcases the commitment to preserving India's cultural heritage. Divided into seven zones, named after renowned Vedic sages, Ved Van Park pays homage to ancient wisdom while offering a serene escape from urban life.
Let's delve into the wonders of Ved Van Park and find out what makes it a must-visit destination in India.
Embark on a Journey of Enlightenment – India's First Vedic Theme Park, Ved Van Awaits!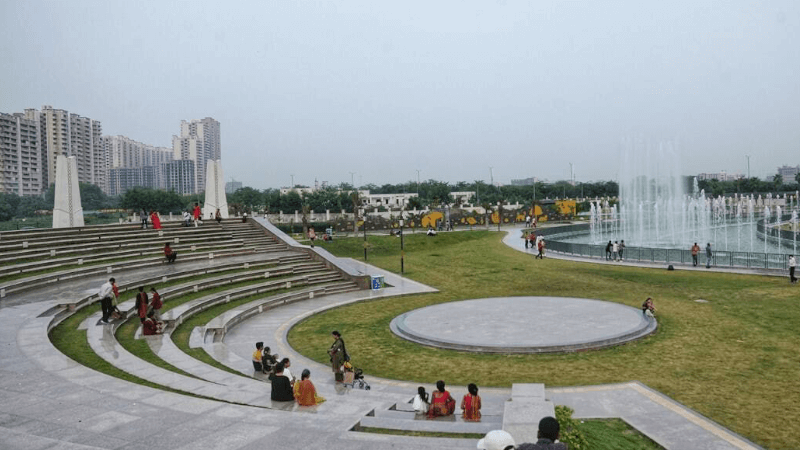 Step into the magical world of Ved Van Park, where the theme revolves around passages from the Indian Vedas - Rig Veda, Atharva Veda, Yajur Veda, and Sama Veda. These sacred scriptures hold profound knowledge and philosophical insights that continue to influence Indian culture and spirituality. As you explore the park, you'll be immersed in the profound teachings of ancient sages, enriching your understanding of India's spiritual heritage.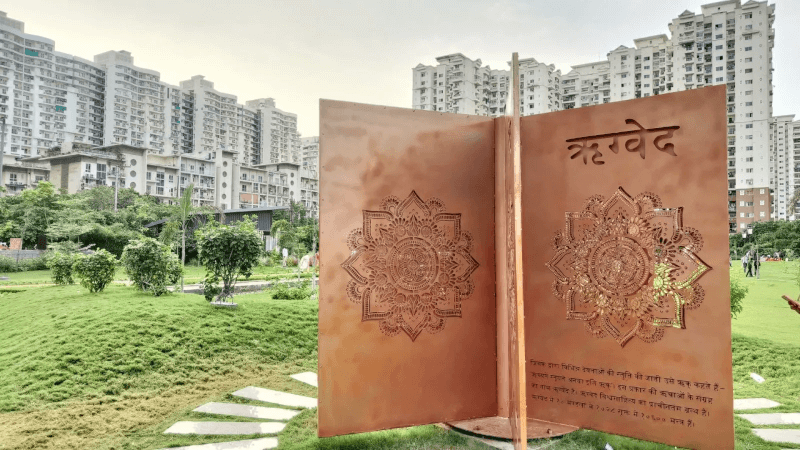 Built with a remarkable budget of INR 27 crore, Ved Van Park is a grand endeavor to preserve and promote India's cultural legacy. The significant investment showcases the dedication of the authorities to create a one-of-a-kind attraction that resonates with history, spirituality, and environmental consciousness.
It's truly astonishing to learn that the area in which Ved Van Park stands today was once a mundane trash yard. However, through visionary efforts, the park has been transformed into a lush green oasis. Soil compression techniques and strategic planting of trees have revitalized the land, offering visitors a serene and refreshing ambiance.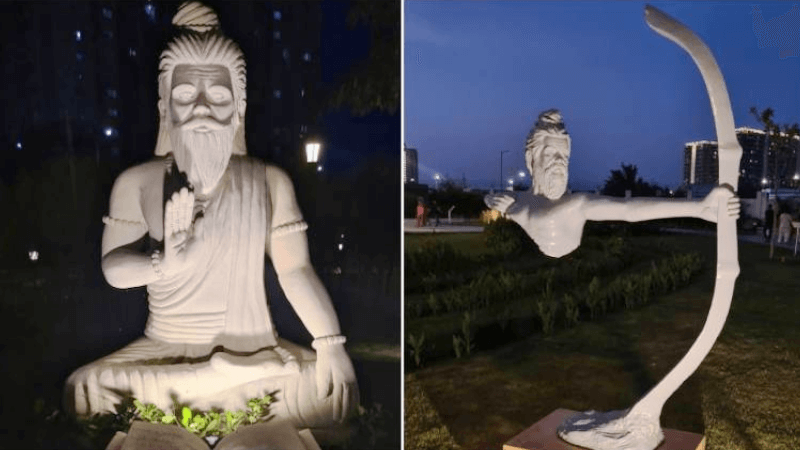 The meticulous division of Ved Van Park into seven zones, each dedicated to revered Vedic sages, adds a profound touch to the entire experience. Visitors are transported through time as they explore the zones named after Kashyap, Bharadwaj, Gautam, Atri, Vasishtha, Vishvamitra, and Agastya. These names resonate deeply with Indian culture, evoking tales of wisdom and spirituality that have been passed down through generations.
Moreover, Ved Van Park doesn't merely stop at naming the zones after these great sages. It goes the extra mile by providing ample information about their lives, teachings, and contributions to Indian history. For history enthusiasts and spiritual seekers alike, this aspect adds an enriching dimension to the park's ambiance, fostering a deeper connection to the Vedic heritage and inspiring visitors to delve into the timeless wisdom of these illustrious Indian sages.
Inside the park, you'll discover a treasure trove of holy scriptures displayed for visitors. These sacred texts offer deeper insights into the philosophical and spiritual knowledge enshrined in the Vedas, providing a sense of spiritual tranquility to those who seek it.
One of the highlights of Ved Van Park is the mesmerizing Vedic-themed laser show. This visually stunning spectacle combines technology and storytelling to transport visitors back in time, reliving ancient tales and wisdom through a captivating audio-visual experience. After watching the fantastic laser show, you can head towards one of a kind dining experience in Noida with fly dining.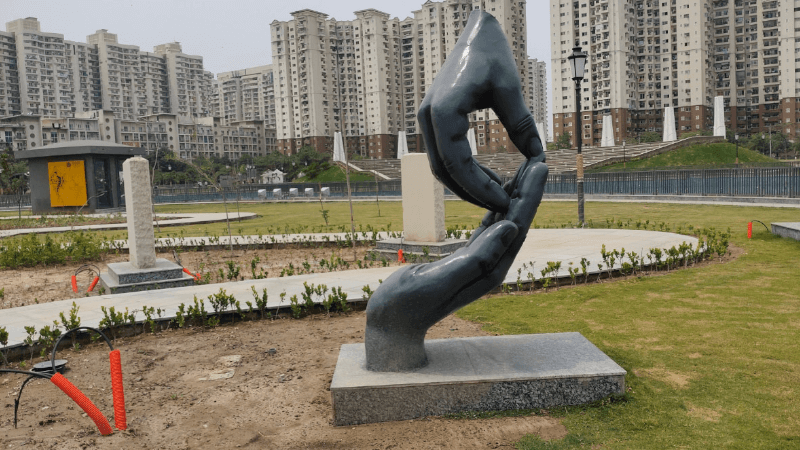 As you traverse through the park, be captivated by the vibrant walls adorned with artistic depictions of scenes from the Vedas. These murals narrate stories from ancient texts, adding a visual dimension to the park's educational and enlightening offerings.
Nature enthusiasts will find solace in the vast array of over 50,000 plants within the park. Kalpa Vriksha, neem, banyan, and other flora mentioned in Vedic literature thrive here, reaffirming the profound connection between nature and spiritual teachings.
Ved Van Park caters to visitors' physical well-being as well, featuring a solar-lit amphitheater and an outdoor gym. These spaces provide opportunities for leisure and fitness amidst the park's serene and uplifting atmosphere.
Suggested Read: Best Reasons Why Living In and Around Delhi Is So Much Fun For All.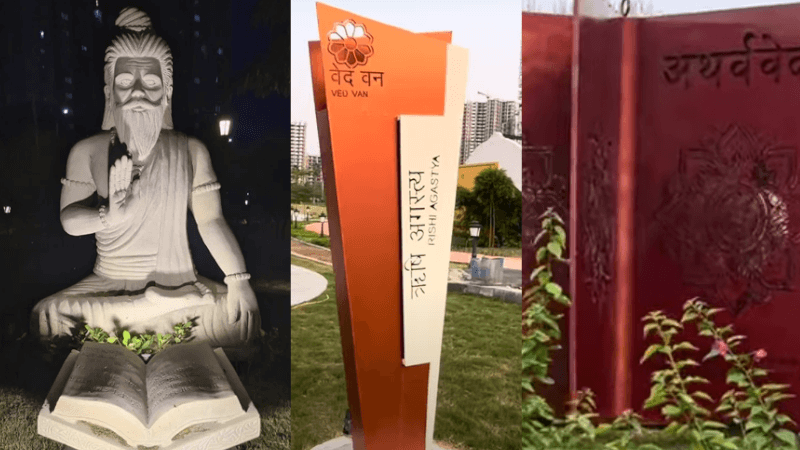 Address: Ved Van Road, Assotech Windsor Court, Sector 78, Noida, Uttar Pradesh 201305
Timings: 8 AM to 9 PM
To reach Ved Van Park in Noida Sector 78, you can follow these steps:
By Metro:

The nearest metro station to Ved Van Park is Noida Sector 101. After deboarding, you can reach there by walking or by hiring local transport.
By Car:

If you're driving, you can use GPS navigation to reach Ved Van Road, Assotech Windsor Court, Sector 78, Noida, Uttar Pradesh 201305. The park is easily accessible by car, and there is ample parking available.
By Bus:

Noida has a well-connected bus network. You can check for buses that pass through Sector 78 and get off at a convenient stop near the park.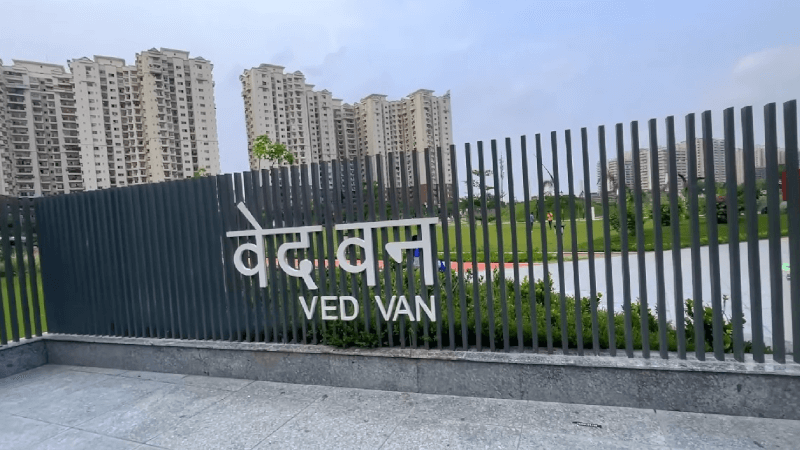 Remember to check the park's timings (8 AM to 9 PM) and consider using public transportation or booking a cab for a hassle-free and eco-friendly journey. Enjoy your visit to India's first-ever Vedic theme park, Ved Van Park, and immerse yourself in its cultural and natural splendor.
To ensure a seamless and enjoyable trip to Ved Van Park, consider using EaseMyTrip, a trusted platform that offers convenient booking options for flight tickets and hotels. Prepare to embark on an enchanting journey through India's cultural roots, enveloped in the natural beauty and spirituality of Ved Van Park. Whether you're an ardent spiritual seeker or simply seeking a serene escape, this Vedic theme park promises an experience unlike any other. Discover the magic and wisdom of Ved Van Park and create cherished memories that will last a lifetime.